The Ultimate Forklift Operator Training Handbook
4KS Forklift Training Ltd provides RTITB accredited forklift truck training at our fully approved and accredited training centres in Birmingham and Peterborough, for candidates who are looking to build their forklift operating career. We also offer onsite training facilities at company premises, for companies who want their employees trained on site.Before we get into the ultimate forklift operator training handbook to find the best training course for you, let us discuss the benefits of
getting a forklift licence
and the two kinds along with their pros and cons.
Forklift Operator Training Handbook Table of Contents
The Benefits of Earning your Forklift Licence.
Companies throughout the UK are hiring forklift truck drivers right now, and the job demand is ever-increasing. If you are looking to kick start your career within the forklift operating sector, earning a licence could get your foot in the door.
Accredited Licence:
Employers nowadays want to hire candidates with the right certification straight away, to avoid risking the repercussions of having untrained employees at work.
The main benefit of an accredited licence is that it would always move with you wherever you decide to take your career – you could take your skills and credentials to a different workplace that offer a higher pay rate or more benefits as you gain more experience over time. An RTITB accredited licence holds a lot of value when you are looking for forklift jobs and provides candidates with a clear record of what was covered in their training, and that it took place in a suitable location.
Non-Accredited Licence:
Often known as an in-house licence, this has no connection with an external accreditation or professional body. These courses are mainly focused on equipping candidates with a certain skill to use at the place of work. This is beneficial for companies who are looking for training cheaper than the accredited forklift licence. A non-accredited licence can only be used at the organisation's premises however, and it does not hold value outside that organisation if an employee were to leave.
Now that you have a better understanding between the two types of licences, let's carry on with the ultimate forklift operator training handbook. We hope this helps you decide the right course for you.
Forklift Operator Training Handbook
So, What Forklift Training Course is Best for You?
We cater for all skill levels of operator on all types of trucks, including complete novices, semi-experienced operators, refresher courses, and conversion courses. We can even tailor the training to you, creating bespoke courses to suit your exact site requirements. This forklift operator training handbook is designed to help answer all your questions around the various types of forklifts and courses.
All forklift training courses include a practical and a theory test and are offered on a maximum three delegates to one (3:1) instructor ratio – meaning up to three people of similar ability can be trained at the same time as you.
Novice Courses:
(5 day course) This course is ideal for any total beginner using their first forklift truck, and has no previous experience of Materials Handling Equipment.
Semi-Experienced Courses:
(3 day course) This course is designed for a forklift truck operator who has an extensive amount of experience; at least 12 months, however holds no licence and has had no formal training.
Refresher Courses:
(1 day course) Suited for the operators who are trained and certified, the refresher course allows them to take a test to renew their licence. Forklift licences are valid for 3 years.
Conversion Course:
This course is suited for operators who are trained and certified on certain forklifts. The conversion course allows them to expand their forklift licences on other types of trucks.
Counterbalance Forklift Licence:
Counterbalance forklift trucks are the most common used trucks nationwide. They are straightforward machines and can be driven up to the load that needs to be carried. As part of the forklift operator training handbook, we try and give you an expected salary bracket for each forklift truck.
Expected salary for counterbalance lift truck operator ranges between £25 – 28K yearly.
What to expect on the day:
This course delivers a minimum of 32.5 hours of instruction and provides candidates the skills and knowledge of how to safely operate the truck, including in depth analysis of pre-use-inspection and shown the causes of truck and load instability. This also enables successful operators to use any counterbalance forklift up to a 5000 kg lifting capacity (with authorisation) anywhere in the UK.
The counterbalance forklift training course is broken down over 5 days, and consists of a classroom lecture, video presentation, written assessment, practical training, and assessment.
Learn more about our counterbalance forklift training course
Reach Truck Forklift Licence:
Reach trucks are very beneficial to use for companies as one of the main features of the lift truck is that their ability to reach the fork carriage out beyond the reach legs further into the racking. Reach trucks can be used in tightest working environment and can safely lift more than 10 meters due to the stabilising reach legs. They are designed to work in a narrow aisle and their moving mast is precisely designed for pallet storage.
Expected salary for Reach truck operators range between £25-28K yearly.
What to expect on the day:
Our Reach truck training course covers the lift truck controls; moving/stopping and steering the truck, operation of hydraulic controls; battery care; weight assessment; handling laden and unladen pallet; driving on or off ramps and inclines; stacking and de-stacking; and the operators' safety code. The course includes a practical and a theory test and is broken down over several days depending on the level of training required.
For novice candidates – 5 hours
For experience (but untrained) candidates – 5 hours
On a refresher course – 5 hours
On a conversion course – 13 hours
VNA (Very Narrow Aisle) trucks are very useful for organisations who have their racking very high. With VNA operation and the ability to stack and pick at extreme heights, your organisation can now operate at ever higher levels of efficiency.
Expected salary for VNA truck operators range between £28-30K yearly.
What to expect on the day:
This course will give you the skills to operate the truck safely and efficiently, carry out a pre-use inspection, and recall and explain the causes of truck and load instability. There are two categories of VNA truck – man-up and man-down. The completion of the man-up operator course will equip you to operate both machine types.
This course covers an introduction to the truck; driving the truck (including narrow aisles under automatic guidance); laden and unladed manoeuvring; operation of the hydraulics; battery care and maintenance; picking up and setting down; loading with the man-up function; and handling awkward loads. The course includes a practical and a theory test, and is broken down over several days depending on the level of training required.
For novice candidates – 3-5 days
For experience (but untrained) candidates – 3-4 days
On a refresher or conversion course – 1 day
Bendi - Flexi Lift Truck Licence:
Commonly known as a Flexi truck, this machine has a slight advantage over counterbalance or reach trucks as its unique design allows the truck to stack and de-stack pallets in narrow aisles. New Bendi operators will find that it is easier to learn and operate the Flexi Bendi truck than it is to learn and operate more complicated trucks, as this requires fewer controls.
Expected salary for Bendi truck operators range between £25-28K yearly.
What to expect on the day:
During the Flexi Bendi forklift training courses, 4KS training cover all the legislations relevant to narrow-aisle, pivot steer truck operating. Candidates will also learn hazard awareness; moving/stopping and steering the truck; the operators' safety code; manoeuvring in tight spaces; operation of hydraulic controls; pre-shift inspection; stacking and de-stacking; and the lift truck stability.
Trainees who successfully complete their training will be issued with an RTITB accredited certificate and a photo ID card. This is all included in your price.
PPT Truck / LLOP Licence:
PPT are very well-known machinery nationwide and most of the organisations use this kind of MHE machinery. PPT are one of the simplest lift trucks available out there and very easy to operate. The main advantage is that it helps with manual handling and prevent injuries. PPT trucks are best suited when they are driven indoors with smooth ground condition.
Expected salary for PPT/LLOP operators range between £18-23K yearly.
The course includes a practical and a theory test, moving/stopping and steering the truck, battery care; weight assessment; and the operators' safety code.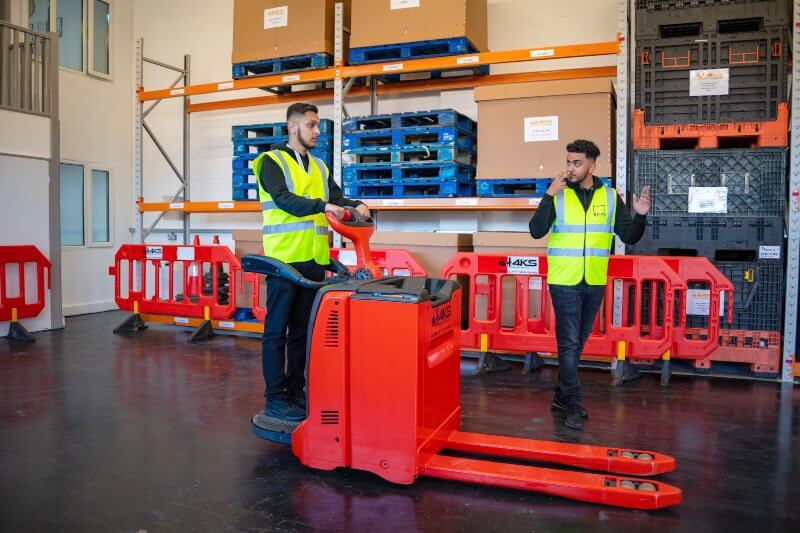 Why Train at Our Facilities?
Well, apart from equipping you with a detailed, well-informed forklift operator training handbook or a forklift licence guide (however you want to term this), we have two fully accredited training centres in Birmingham and Peterborough, purposely designed for forklift training. Being RTITB accredited means our instructors and training centres are audited annually which ensures we are always keeping our standards up to date and provide the best training service out there to our candidates.
We can travel nationwide for onsite training, as well as offer weekend courses – at no extra cost! Our prices are very competitive, and we house a team of fully qualified instructors who can cater to every individual, no matter what their circumstances may be. Our training centres include:
New, professional equipment and trucks
Plenty of racking bays and weighted loads replicating normal working conditions
A fully equipped battery charging area to learn about safe battery care procedures
Fully equipped classroom with a 50" TV for video presentations and health & safety training
Great lighting and heating
Diverse loads including 1 tonne loads, live loads & unevenly distributed loads
Chicane exercises, turning and reversing in narrow aisles
High lift levels – up to 3 metres
Why Choose Onsite Training?
We provide nationwide forklift training onsite at your company's location, and our accredited instructors can work around your schedule. The forklift operator training handbook not only helps individuals but companies as well who wish to get their staff trained at their premises.
Not only could companies save money on travel costs and time but getting your forklift training onsite also has the advantage of operators being familiar with the actual equipment and types of loads they will be using in their daily working environment. This could be noisy, uneven, or busy areas with other forklift activity – this is the real workplace! And therefore, your forklift training course needs to be tailored for you, being able to work safely and efficiently in all situations, always.
Forklift Operator Requirements
Are you finding the forklift operator training handbook helpful? When thinking about if forklift training is right for you, there a few requirements that you should check to make sure you are eligible. For example, since you may be moving heavy materials, and the possible danger if you are not able to get in and out of a forklift easily, it is recommended that all operators have an appropriate level of medical fitness.
According to HSE you must be over the minimum school leaving age to train as a forklift operator, although it does say you can be 18 years old and operate if working in ports.
If you have a forklift licence from another country, it is still recommended that you do your training as some employers may not accept your licence. Also, because some countries have different forklift working environments, you will need to be confident when behind the wheel.
After You Earn Your Licence
There is an ever-increasing demand for forklift operators, and companies need your help as part of their logistics team. 4KS Forklift Training can help kick-start your career, and help you get a job as part of our training programme. We can assist with building a CV as well as offering advice on job applications and full support. We also give references to agencies regarding an operator's certification.
PLUS – We offer candidates 30% off their next course if they refer any new candidates to us. T&C's applied
So, Why Choose 4KS Forklift Training?
Well to put it simply…
Brand New Trucks & Equipment
5* Reviews
98% Pass Rate
6 Spoken Languages
Over 20 Years' Experience
Competitive Pricing
Help with CV's, job applications and employment
Support with theory test in various languages
A lively and relaxed approach to training
…and you get this ultimate forklift operator training handbook to help you decide the right course and level.
Thinking of learning new skills, starting a new career, or refreshing your forklift licence? Then do not hesitate – give us a call today and we can discuss what training course will be best for you! We hope you found this ultimate forklift operator training handbook beneficial. If you still have any questions that have not been answered above, please feel free to get in touch using the enquiry form.
Still have a question? Ask away!